More than 20,000 sustainability champions attend UN Global Compact's 20th anniversary Leaders Summit online — German Chancellor Angela Merkel and the Presidents of Botswana, Colombia, Costa Rica and Ethiopia joined the President of the UN General Assembly and UN Secretary-General alongside dozens of Chief Executive Officers and UN chiefs at the United Nations Global Compact Leaders Summit to address the private sector's response to three unprecedented and interconnected global crises — health, inequality and climate change.
Over 26 hours of continuous virtual programming — including more than 100 global, regional and local sessions — the Summit was the UN's largest, most inclusive and most sustainable convening of purpose-driven business leaders committed to tackling societal challenges and advancing the Sustainable Development Goals (SDGs). More than 20,000 business and sustainability leaders from over 180 countries participated in their local time zones and languages.
Under the theme of "Recover Better, Recover Stronger, Recover Together," the event marked the 20th anniversary of the UN Global Compact, providing a platform of platforms where leaders from business, civil society, Governments and the UN were challenged to reflect on the importance of collaboration and public-private partnerships, and increase their ambition to achieve the SDGs.
"I am encouraged to see so many companies, of so many sizes and from so many sectors and countries, recognizing the urgent need for global unity and international cooperation. Our shared aim is to see businesses integrating the Ten Principles of the UN Global Compact into their core strategy and operations, taking strong steps to support the SDGs, and reporting publicly on progress," said UN Secretary-General António Guterres in his opening remarks from UN Headquarters in New York.
In the midst of this, it was a great honour for the Responsible Jewellery Council celebrating its 15 th anniversary this year to host a session at the Leaders' Summit titled 'SDG Impact through the Jewellery Industry', and how the industry can steer action towards implementing the 17 UN Sustainable Development Goals (SDGs). The time has passed for small commitments, and delays in embracing sustainability. Now is the time for leadership, investment and action. Companies that remain on the sidelines will sacrifice their opportunity to shape their own, and the planet's, future. Responsibility is part of a resilient future.
Our foremost objective was to pledge our commitment to a Decade of Action and to discuss how the jewellery industry can contribute in the journey towards 2030 – reimagining, redefining and, ultimately, delivering the kind of future and world we all want. Included in this pledge is an acknowledgement of certain core non-negotiable values: an unwavering focus on human rights and dignity, fair and environmentally-friendly sourcing practices, transparency across the various components of our complex and interconnected supply chains, and a commitment to business practices that factor in the cost to our planet.
The 2030 agenda is a clear global plan about People Peace, Planet and Prosperity. It is a collective shared responsibility for all industries," said Iris Van der Veken, Executive Director of the London-based RJC. "Every aspect of the supply chain needs to be connected to create a more sustainable future. Transformative partnerships are needed to bring the public and private sector more closely together to create systemic change."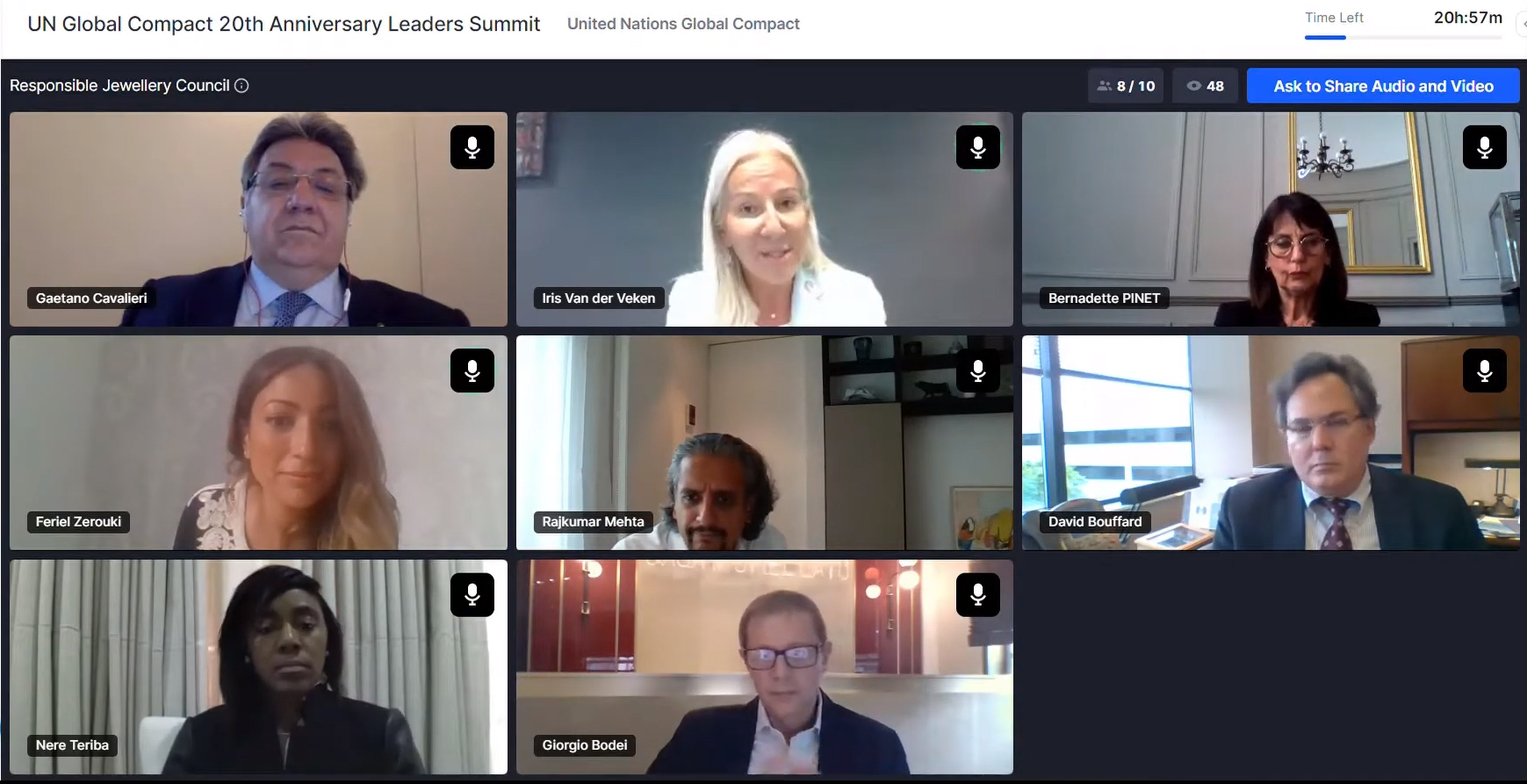 Moderated by RJC's Executive Director, Iris Van der Veken, the panel featured leading pioneers from across the jewellery industry:
David Bouffard: Chair of Responsible Jewellery Council and Vice President, Corporate Affairs at Signet Jewelers Ltd.
Gaetano Cavalieri: President, World Jewellery Confederation (CIBJO)
Feriel Zerouki: Senior Vice President of International Relations and Ethical Initiatives at The De Beers Group of Companies
Nere Teriba: Founder and Vice Chairman of Kian Smith Trade & Co
Bernadette Pinet-Cuoq: Executive President, Union Française de la Bijouterie, Joaillerie, Orfèvrerie, Pierres et des Perles (UFBJOP)
Raj Mehta: Director, Rosy Blue NV
Giorgio Bodei: Director of Production and Planning, Pomellato
The panel covered the entire span of where the jewellery industry began its sustainability journey, and where we are today. As David Bouffard pointed out, "The most important thing to the industry is maintaining and ensuring consumer confidence, through continuous improvement and integrity of the global jewellery supply chain. Over the years the jewellery industry has stepped up to this sustainability challenge, through a wide range of systems policies and projects."
We delved into the RJC standards and strategies and how they are connected to the 2030 agenda and the 17 Sustainable Development Goals. Feriel Zerouki, Senior Vice-President of International Relations and Ethical Initiatives at De Beers Group, one of the world's biggest diamond miners, said De Beers was actively developing plans to create a more sustainable supply chain to boost the livelihoods of its employees, many of whom live in southern Africa. She shared challenges and opportunities on the De Beers Group piloting GemFair, a programme that aims to connect artisanal and small-scale miners to the global market through digital technology and assurance of ethical working standards.
Raj Mehta, a director of diamond manufacturer Rosy Blue, said that if companies and governments can move effectively towards achieving the SDGs, customer confidence will improve, and that will lead to economic growth and higher employment and income in the jewellery industry.
He said that the RJC is "bringing together the supply pipeline from mine to finger so that responsible production can enable enhanced transparency and traceability, and improved responsible sourcing practices", which in turn creates greater confidence in the consumer.
Emphasising the need for paying special attention to consumer confidence, Bernadette Pinet-Cuoq remarked, "Our trade is, before being a product, a culture, an eternity, a universality, a love, a moment of life. It demands, more than any other industry, the respect of the consumer and a special care for the one who will wear the piece of jewellery, love it, and pass it on from one generation to the next."
Building on the subject of consumer trust, Giorgio Bodei added, "It is important that brands like Pomellato explain their products correctly to their final customer – who are more and more interested in hearing these stories. Especially the younger generations are the most willing to buy products from companies that show high interest in the social and environmental aspects."
Gaetano Cavalieri added, "as a business community, we also have a responsibility to improve society and protect the environment, providing sustainable opportunities to all our stakeholders. It is within the context of that duality – to do no harm, while serving as a dynamic force for development – that CIBJO views its relationship with RJC."  
The discussion was observed by our session rapporteur, Nere Teriba, who gave her concluding thoughts on the panel, "We talk about caring and businesses uniting together for a better world. It is just amazing to see that at the anniversary of the RJC, they have a lot of founding members even here on this panel to show you that sustainability has been ongoing for a while. We have heard a few impact programmes talking about SDG 5 as a door towards achieving all the SDGs. A united front is the only way to meet the SDG goals. The collaboration within the RJC and its members is putting sustainability on the agenda."
"We also see that despite the global impact of COVID19, it has presented an opportunity to actually accelerate efforts of meeting SDG goals in the jewellery industry, especially in areas of production and supply chain. The impact of the SDGs in the jewellery industry will bring resilience."
Iris closed the panel by reiterating the importance of adopting the SDGs within the jewellery industry, and the role that the RJC can play. "The jewellery industry has a leading role to play and contribute to the decade of delivery. We all have the same role and job – and that is to be united in the business of a better world. We believe at the RJC our critical role will be to continue to work together, to educate companies in the supply chain, to look at the Code of Practices as a great tool to really integrate sustainability. The SDG taskforce we are launching soon will be an important part of that work."